Disinfection Gate SHIELD
---

---
Draft shield for Disinfection Gate
creates protection which improves the quality of disinfection.
During high wind, intensity ensures even distribution of the disinfectant on the surface and gives greater control over the amount of applied agent, easier control of applied disinfection solution when calculated per m² of the disinfected vehicle.
Reduces the probability of water mist passing outside the disinfection area.
---
K

ey Features:
---
High-quality 230V or 400V powered pump
---
Startup options: Automatic sensors Start/Stop, remote control On/Off and manual On/Off
---
Durable components ensure years of outstanding performance with minimal maintenance
---
Made of powder-coated aluminum what makes it lightweight and easy to install
---
Made of powder-coated stainless steel ( option)
---
Spray lance with a 20m hose for spraying in inaccessible spots
---
Low-temperature operations system that allows a disinfection gate to be used below 0°C
---
Reflective elements ensure adequate visibility after dark
---
Build-in dosing system, multiple dilution levels

---
Unidoz Biosecurity Gate
Truck Unidoz Disinfection Gate is the best bio-insurance available on the market. Compared to the disinfection mat, we have the ability to disinfect the passing vehicle, not just the lower part of the wheel. The vehicle is disinfected on all sides (360 ° disinfection): the sides, the top, the front, the rear, the chassis.
More inforamtion about Unidoz Disinfection Gate klick here
---
Check how it works:

Related products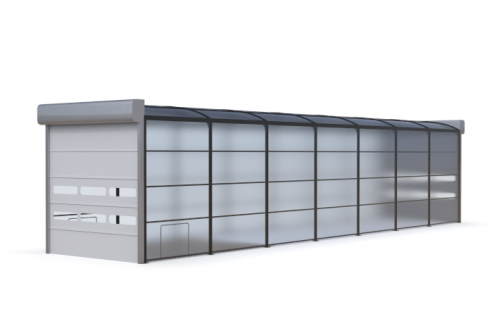 Disinfection Tunnel for trucks
Disinfection Tunnel
---
Automatic two-step disinfection tunnel for trucks.
---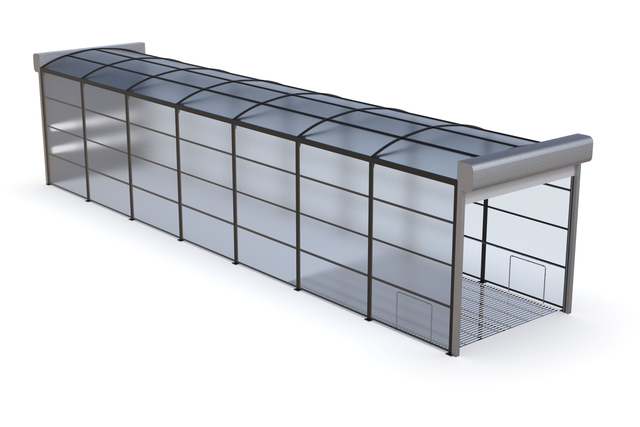 ---
An automatic vehicle disinfection system sprays the entire vehicle with particular emphasis on the chassis and wheels, the next stage of vehicle disinfection is automatic fogging with a chemical agent that takes p (...)
Learn more