UNIDOZ BOOT CLEANER UNIDOZ BOOT CLEANER A device for washing and disinfecting Boots
UNIDOZ BOOT CLEANER A device for washing and disinfecting Boots.
---
BOOT CLEANER Agri sector boots sanitizer
Perfect for clean and disinfecting shoes in the agriculture sector. A proven, inexpensive, and effective way to prevent from entering pigs and poultry diseases. Place BOOT CLEANER shoe disinfection system in the doors and entrances to all piggeries, pens, and poultry houses. All you have to do is connect water and the disinfectant/cleaning agent to the device.
---
STAINLESS STEEL BOOT CLEANER is a GUARANTEE that the shoes in which you enter the shed, piggery, stable is clean!
---
BOOT CLEANER System of brushes and a low-pressure water spray system with a build-in chemical mixer, to clean shoes from organic contaminants.
The patented arrangement and form of the brushes allow for thorough cleaning of the dirtiest footwear.
---
Advantages of the device:
Thorough cleaning of footwear even removes dried dirt

Stainless steel construction

Disinfection not only of the soles of the shoes but also of the sides and top,

Guaranty of disinfection with a clean solution of disinfectant and cleaning agent

Low consumption of disinfectant,
---
The device provides the highest level of biosecurity for ASF and avian influenza. Replaces disinfection mats and disinfection boot baths We invite you to familiarize yourself with our other devices for BIOSECURITY
Related products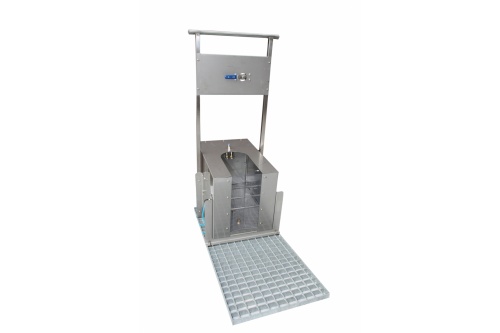 BOOT DISINFECTOR UNIDOZ Boots spray disinfecting
Farm Boots spray disinfecting.
---
UNIDOZ BOOT DISINFECTOR Disinfection of shoes
---
Perfect for disinfecting shoes on a farm. Spraying with a disinfectant is an inexpensive and effective way to prevent contamination of pigs, poultry, etc.
BOOT DISINFECTOR Placed in the door to the piggery and poultry (...)
Learn more